PeopleTalk Magazine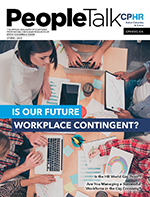 Reach British Columbia & Yukon's $1.4 billion HR Industry
CPHR BC & Yukon is pleased to announce that we have chosen to work with Naylor Association Solutions. Naylor provides advertising, publication and media services that build your company's image and link your brand to human resources professionals. We are partnering with Naylor to provide the following:
PeopleTalk Quarterly Magazine | The official magazine of CPHR BC & Yukon is published 4 times per year and is available in both print and online. Every quarter, the print version of the magazine is mailed to about 6,000 members.
Make an excellent investment in your business and brand, by affiliating your organization with us. This is your opportunity to advertise and promote your products to decision makers in the human resources industry.
Space is Limited! Contact your Naylor account representative to reserve your spot today!
For more information or to request a free quote, please contact Angela McDougall, Project Manager, at (800) 665-2456, ext. 3625.
For editorial enquiry, please contact Ian Esplen.
For subscriptions, please complete the subscription form.
View Opportunities and Rates here.