PeopleTalk Magazine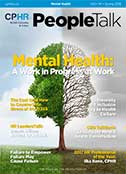 Whether quarterly in print or anytime online, PeopleTalk is CPHR BC & Yukon's editorial voice, exploring global HR issues through the lens of regional expertise.
With each issue themed and developed by a volunteer panel of industry experts, PeopleTalk digs deeper with committed cover stories and content that speaks to the expanded role and expansive potential of the HR profession. Similarly themed articles span the varied departments within, including each issue: recruitment and retention, training and team building, leadership, legal, off the shelf, technology and workplace wellness—as well as CPHR Canada updates, CPHR BC & Yukon member news and more than a few of their views throughout.
Distributed to all 5,700+ CPHR BC & Yukon members in print, PeopleTalk is B.C.'s largest HR publication, making it both a must-read for HR and industry-related professionals and a guaranteed way to connect for advertisers. With each issue subsequently available via Flipsnack or reprinted on the searchable peopletalkonline.ca, that quarterly connectivity is now available 24/7.
For editorial enquiry, please contact Jason McRobbie.
For advertising opportunity, please contact Jordan Kofsky.
For subscriptions, please complete the subscription form.