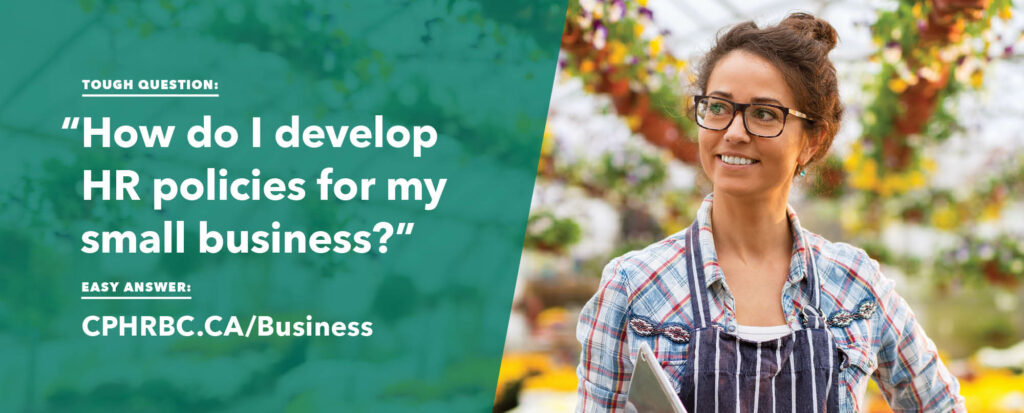 Make your #HReasy

As the go-to organization for HR information in BC and the Yukon, we have many small business tools and solutions to make your #HReasy.
Small business owners like you need help addressing many human resources (HR) topics, like how to create HR policies, do performance reviews, support the health and wellbeing of your team and attract top talent. We can connect you with qualified HR consultants and CPHR BC & Yukon members who can create custom solutions to help your business adapt to today's changing workplace. We also provide the latest HR information and PD On-demand courses—many of these courses are free to our members—to help you learn about HR on your own.
We offer a General Membership, which allows you to access exclusive member benefits like our HR Job Board, to hire an HR professional, and our HR Toolkit, which has 650 HR forms, checklists and templates to help you develop policies, conduct performance reviews and integrate effective HR practices into your small business.
Explore the resources, articles and PD On-demand courses available for small business owners below, and consider becoming a member today!
If you have any questions about CPHR BC & Yukon, the services we offer or becoming a member, please reach out to us.
Phone: 604.684.7228
Toll Free:1800.665.1961
E-mail: info@cphrbc.ca
Postal address:
1101-1111 West Hastings St.
Vancouver, BC V6E 2J3
We try to respond to feedback within 3 business days.