Board of Directors
Kevin Howlett, CPHR – Chair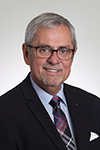 Kevin Howlett is a recently retired executive from Air Canada, having held the position of Senior Vice President Regional Markets and Government Relations. During his 45 year career with the company, Kevin was the accountable executive for various departments, including Human Resources, Government Affairs, and Regional Operations, operating under the Air Canada Express brand. Educated at the University of Prince Edward Island and Dalhousie, Kevin holds the CPHR (Chartered Professionals in Human Resources) designation. He is on the Board of Directors for the Vancouver Board of Trade, CPHR BC and Yukon, Vancouver Airport Authority and for NAVCanada.   Kevin is a member of CELD (Canadian Emerging Leaders Dialogue) and he holds the Institute of Corporate Directors designation (ICD.D) from the Beedie School of Business at Simon Fraser University.
Susan Ryan, FCPHR – Past Chair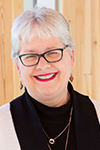 Combining a strong background in finance and human resources management, Susan Ryan holds the CMA, CPA and Chartered Professional in Human Resources (CPHR) designations—and has been a driving force in both professions. Holding that the two professions are not only complementary, but inextricably tied, Susan has spent much of her career in senior management roles within the Yukon Government and the non-profit sector. Since moving to Vancouver Island in 2003, Susan has managed administration, HR and finances alike as the Chief Financial Officer for the Nanaimo & District Hospital Foundation. Since stepping onto the CPHR BC & Yukon Board in 2013 and becoming Chair in 2017, she has remained steadfast in the pursuit of acquiring Tier-One recognition of the HR profession. In honour of her outstanding efforts, Susan was recognized with the Fellow CHPR in 2018. As a strong believer in giving back, Susan has volunteered most of her adult life as a Board member for various Boards, most notably as a Governor for Queen Margaret's School on Vancouver Island, a Board member for the Institute of Public Administration of Canada, and as a Board member for the Society of Management Accountants of Canada (CMA). She was also recently appointed to the Credit Counselling Society Board of Canada.
Gordon Chan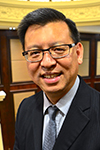 Gordon is a Chartered Professional Accountant (CPA) and has been in Public Practice for over thirty seven years. He is currently the senior partner of Chan Choi & Company, a Public Practice accounting firm in Victoria. Gordon enjoys working with small and medium sized business owners in accounting, taxation, business and management consulting and provides consulting in starting up and selling businesses. He currently served as a member of the Accounting Policy Advisory Committee for the Province of BC since 2009. In addition, he serves on three strata councils as the Treasurer or President. Previous board experience includes CGA BC and CGA Canada Board from 1992-2000. He served as President of CGA BC in 1998. In addition, Gordon have served on more than 40 committees, advisory groups and task forces for CGA BC and CGA Canada from 1985-2014.
Cindy Dopson, CPHR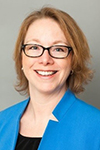 Cindy is a People Solutions Consultant with Central 1, providing strategic human resource and board effectiveness consulting to Canadian credit unions. She is passionate about change, and about supporting organizations to put the governance, structures, systems and programs in place to drive organizational results against strategy. Cindy has a background in operational and human resources leadership, and has led human resource teams in community mental healthcare, fundraising, and telecommunications organizations in BC. She has held responsibility for all aspects of strategic and operational HR, and has worked with boards on optimizing the Board-CEO relationship and board evaluation and effectiveness. Cindy has led the design and implementation of innovative and award-winning HR programs, and has contributed to overall business strategy and planning. In 2013, Cindy was awarded the CPHR BC and Yukon HR Professional of the Year. She is a dedicated volunteer in the human resources profession, in the social services and non-profit sectors, and in her community. Cindy has an MBA with a specialization in human resources leadership, and both the Chartered Professional in Human Resources (CPHR) and SHRM Senior Certified Professional (SHRM-SCP) designations.
Rita Ferrara, CPHR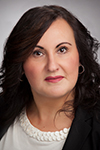 Rita is the Executive Director of Human Resources with the BC Liquor Distribution Branch. In her role she is accountable for the strategic planning, direction, development, and implementation of a comprehensive range of human resources programs and services. As a senior HR practitioner in a unionized, public sector, quasi-crown corporation, her position is accountable for establishing an effective labour relations environment, leading collective bargaining, succession planning, employee recognition and social responsibility programs that support BC communities. Rita's passion for giving back and service includes work with CPHR BC & Yukon, BC Children's Hospital and the Short Term International Medical Mission Abroad (STIMMA) Organization. She's excited to expand her work with CPHR BC & Yukon to include the current drive to evolve the Association and the HR profession.
Cheryl Pelletier, CPHR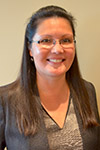 Cheryl is presently the Director of Human Resources at Nisga'a Lisims Government. With over 16 years of HR management experience, Cheryl's career includes posts in both union and non-union environments, in BC Provincial Government, the Post-Secondary Education sector, and in First Nations Government. Cheryl's career is distinguished by commended performance and proven results in HR administration and her professional contributions have garnered provincial and national recognition. Cheryl has been a member of CPHR BC & Yukon since 2008, and obtained her CPHR designation in 2010. An active volunteer, Cheryl has been a contributor to various CPHR BC & Yukon initiatives in recent years including the Association's rebranding project and Annual Conference Steering Committees. On the personal side, Cheryl and her husband enjoy 'living local' in Terrace. Avid fishers and gardeners, they share their acreage property with two golden retrievers, three cats, two horses and an abundance of chickens.
Kristi Searle, CPHR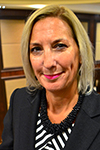 Proprietor of peoplebiz Consulting Inc. Kristi Searle is a certified HR professional and business strategist with decades of experience in internal and external management and advisement, as well as high-level membership on industry panels, boards and executive committees. Kristi has led her team to excel as a strategic partner to systematically optimize organizational efficiencies, best practices and the people-profitability correlation. Displaying strong resourcefulness and problem-solving abilities are equaled only by her willingness to roll up her sleeves and drill deep. peoplebiz partners with medium, large and Fortune 500 companies across sectors, providing a spectrum of contingency and retainer-based services that impact profitability and corporate culture for lasting gain. Kristi has specialized expertise with Corporate, Indigenous/First Nations, Government, Not for Profit, High Tech, Engineering, Health and other business sectors. Kristi is an avid volunteer and currently sits on the CPHR Validation Assessment Committee and Dress for Success Vancouver Career Specialist and Workshop Planning Committee.
Laura Thurnheer, CPHR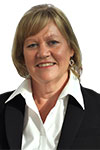 Laura is currently the Chair of the Okanagan School of Business at Okanagan College. In this role, Laura acts as the Business faculty representative working with her fellow faculty, administration, community partners and students. In addition, she is a Professor of Business Administration teaching in the areas of Human Resources Management, Strategic Management, and Tourism. As an active member of her local business community she is very aware of the challenges facing businesses today and strives to help new and existing businesses develop and expand. Laura is a Past President of the Kelowna Chamber of Commerce and currently is a Director with the British Columbia Wine Authority and Kelowna Community Resources. In 2012 Laura was elected by her peers as their faculty representative on the Okanagan College Board of Governors.
Naz Kullar, CPHR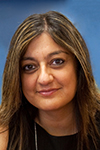 Naz is currently the Director of Human Resources with The Trotman Auto Group; responsible for the development, implementation and delivery of Human Resources strategies and programs.  She has oversight of the following areas:  talent acquisition, performance management, team member relations, health & safety, respectful workplace programs. With a passion for people and helping others; Naz launched in to her career as an HR professional after graduating from University with a degree in Psychology. She worked for a variety of industries in the UK including health care, retail and recruitment before immigrating to Canada 25 years ago. Her career includes working in both union and non-union environments previously in the financial services sector. A firm believer in building strong communities, Naz volunteers at various community events throughout the year and acted as the Vice Chair for the Credit Union Foundation of BC serving as Trustee from 2014 – 2019. A member of CHPR BC & Yukon since 1998, Naz was named as a finalist for the Women in Business Awards (City of Surrey) 2012 and 2013. She has participated in the CPHR BC & Yukon mentoring program for over 5 years and participated as a speaker on the topic of succession planning at the 2017 CPHR BC & Yukon Annual Conference.
Robin Turnill, CPHR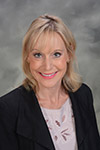 Robin Turnill is the Chief HR Consultant at Pivot HR Services, and she has 20 years of executive, management and consulting experience in both the public and private sector.  Her consulting work has led to providing strategic HR services to clients in the health, legal, financial, education, utilities, gaming, transportation, and community social services industries.  She has held various senior level Human Resources and Labour Relations roles, and was the previous Chief Operating Officer for Greater Vancouver Community Services Society.  To compliment her industry experience, Robin was a Faculty Member for 11 years at Kwantlen Polytechnic University in the Human Resources BBA Program.  As a community-minded individual who greatly enjoys volunteering her time and expertise, Robin is currently a Board Director for Kids Up Front Foundation, as well as the past Vice-Chair of the Board of Directors at both Greater Vancouver Community Services Society and the Electric Company Theatre.  She possesses a Master's Degree in Human Resources Management from York University, a Bachelor of Arts Degree in Psychology from the University of British Columbia, and is a Chartered Professional in Human Resources (CPHR).
Jacquie Griffiths, CPHR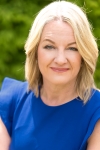 Jacquie is the Director of Regional Employers Services for Metro Vancouver.  She and her team provide human resources and labour relations services to the municipalities in the Metro Vancouver region.  In addition to labour strategy, analytics, compensation and advisory services, Jacquie and her team have also established the Regional Workforce Strategy Initiative – an initiative designed to assist Metro Vancouver municipalities the current labour market challenges to meet service needs.  Prior to her role with Metro Vancouver, Jacquie progressed through a series of roles in the education sector including that of Chief Negotiator and Associate Executive Director for the BC Public School Employers' Association.  Jacquie also served three terms as a Referee for the Employment Insurance Commission of Canada from 2004 to 2013.  In 2009, Jacquie was recognized as one of Business in Vancouver's "40 Under Forty."  Jacquie holds a Bachelor of Commerce from the Sauder School of Business at the University of British Columbia and a Master of Arts from Royal Roads University.  Prior to joining the CPHR Board of Directors, Jacquie was also BC's representative on the Canadian Chartered Professionals in Human Resources National Standards Council.
Mandie La Montagne, CPHR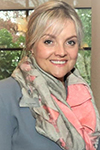 Co-Founder & Partner with The Intueri Group, a blended practice consultancy specializing in strategic succession planning and business transition advisory. In this role she serves as HR Practice lead, working with business owners and workplace leaders on the development and implementation of effective people practices. A long-time generalist HR professional, Mandie offers a wealth of knowledge and perspective attained over her 20+ year career spent supporting, directing, and leading the people & culture function for a variety of organizations in retail and food manufacturing, cooperative finance and insurance, pharmaceutical, and health-based entrepreneurship.  Complementing her work experience, she has an education in Human Resources and Leadership from the BC Institute of Technology, and a Masters in Professional Communication, (spec. Intercultural & International) from Royal Roads University. Active in her community, she is both a Board Director and Social Policy/Workforce Development Team Co-Chair with the Surrey Board of Trade; an Instructor in the HRMT program with KPU; and participates on a variety of employer advisory councils. Outside of work she is 'Mom' to two active teenagers, a hobby photographer, avid traveler, and along with her husband, is an international marathoner.
Anthony Ariganello, CPHR – Ex-Officio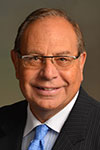 Anthony became CPHR BC & Yukon's CEO in 2014. For the previous 11 years, he served as president and CEO of the Certified General Accountants Association of Canada (CGA-Canada), a self-regulating association of 75,000 accounting professionals and students. During this period, CGA-Canada achieved international recognition as a leading accounting designation. Previously, Anthony was president of Montreal-based Avon Canada, and also held senior-level financial positions including that of controller at Nortel Networks.
To contact the Board of Directors please email bod@cphrbc.ca.