StartDate ATS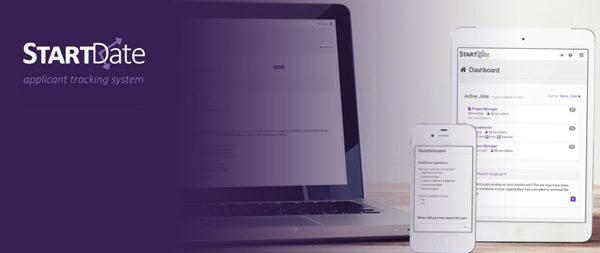 Take the hassle out of hiring!
HireGround® Software Solutions, a partner of CPHR BC & Yukon, has been developing recruitment and job board software since 1999. Over the years HireGround has been able to gain insight into the HR industry and its unique requirements, and have been leveraging this insight to provide responsive and efficient HR software.
The latest offering from HireGround Software, StartDate is the fast, responsive, and user-friendly Applicant Tracking System you've been looking for.
Comprehensive Job and Candidate Management
From job templates to hiring workflows and candidate rejection reasons, StartDate is a great tool for making sure that all of your candidates are right where you want them.
Attract More Candidates
StartDate has the ability to post your jobs to Indeed, SimplyHired, GlassDoor, Trovit, and a range of other job boards without any extra effort on your part. Your jobs get seen more, and StartDate makes the intake of applicants easier than ever.
Hit the Ground Running
StartDate can be up and running in minutes (not months) with no IT team needed. This is a secure, cloud-based application – no downloads required. All of our servers are hosted in Canada, and all of our technical support is in-house.
Putting Function First
StartDate has an intuitive and easy-to-understand user interface, reducing clutter and making functionality our top priority, both for job applicants and recruiters.
Hassle-Free Application Process
With StartDate, applicants don't need to make an account to apply for a job, saving valuable time and making the application process simple, fast, and hassle-free.
Best of all, StartDate comes at a 10% discount for CPHR BC & Yukon members. Think you might be interested? Get in touch and get your free demo today!