Validation of Experience Requirement
The Validation of Experience (VOE) Assessment is the final formal step in earning the CPHR designation.
The following are the requirements for the Validation of Experience Assessment.
Experience has always been an integral component in achieving the CPHR designation. The requirements to pass the VOE are:
Three (3) or eight (8) years of work experience with the majority, 51% or more, being work in HR at the Applied HR and Foundational HR levels. Experience must be obtained within the past 10 years from the VOE submission deadline. The number of years required is based on the level of education as listed below: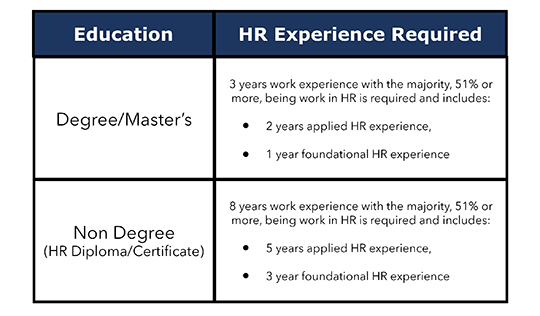 Applicants must demonstrate that their experience is at the Applied HR level in a minimum of 12 of the 44 functional competencies in the Knowledge Areas and a minimum of 3 of the 5 Enabling Competencies
Membership in good standing with CPHR BC & Yukon
Agree to abide by the CPHR BC & Yukon Code of Ethics & Standards of Professional Conduct
Info Session
Timeline to Complete VOE & Experience Requirements
CPHR Candidates have 10 years to complete the VOE after passing the National Knowledge Exam (NKE) or being exempt from writing the NKE.
Candidates can work toward the Experience Requirement in any sector of the economy: industry, government, public practice, professional associations, education, healthcare, or not-for-profits – essentially anywhere that has a human resources function.
The nine (9) HR Functional Knowledge areas are as follows:
Strategy
Professional Practice
Engagement
Workforce Planning and Talent Management
Labour and Employment Relations
Total Rewards
Learning and Development
Health, Wellness, and Safe Workplace
Human Resources Metrics, Reporting, and Financial Management
For a complete list of functional competencies within each HR Functional Knowledge area, please refer to the CPHR Competency Framework and the CPHR Competency Framework Classification System
The VOE Handbook
It is strongly encouraged that the VOE Handbook is read before one starts to complete their VOE Application. 
Validation of Experience (VOE) Handbook
View CPHR BC & Yukon's Validation of Experience Handbook
Educational Requirements
Prior to starting your VOE Application, ensure you have requested original transcripts be sent directly to CPHR BC & Yukon from your educational institution. This can be done after passing the NKE or well in advance of starting the Application.
Education received outside Canada needs to be assessed through one of these organizations:
 Validation of Experience (VOE) Process
Once you have passed the National Knowledge Exam (NKE) or received approval to be exempt from the NKE and satisfied the educational requirements, you are eligible to submit documentation of your experience for assessment.
Email (preferred method): registrar@cphrbc.ca
Mail: CPHR BC & Yukon Registrar
1101 – 1111 W. Hastings St.
Vancouver, BC V6E 2J3
Submission Deadlines
February 15
May 15
September 15
Fees
$100 CPHR Validation of Experience Application Fee
o    Payable the first time a VOE form is submitted for review
$400 CPHR Validation of Experience Assessment Completion Fee
o    Payable upon successful completion of the experience requirement
Notification of Receipt of Submission & Results
Applicants will be notified by CPHR BC & Yukon upon the receipt of their assessment via email.
Applicants will be notified the results of their VOE Application within 8 weeks from the submission deadline. Unsuccessful applications will be notified of gaps in their experience assessment and options available to them. There is no limit to the number of times an individual may apply.