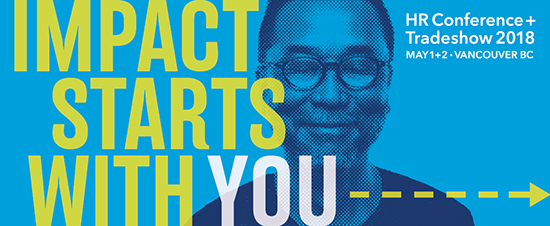 Schedule for Tuesday, May 1
Keynote Session
8:30 – 10:00
Boost Your Brain: The Brain Science Secrets of Motivation,


Productivity, and Peak Performance

Dr. Brynn Winegard

Breakout Sessions

10:45 – 12:15

Employer Strategies for Responding to an Aging


Workplace

Nicole Byres, Valerie Dixon, Krista James

Legalization of Marijuana: What You Need to Know


Before BC Goes Up in Smoke

Drew Demerse, Paul Farnan, Michael Kilgallin, Steven Rogers

Agile or Adjunct? How to Structure Around Your Agile


Teams for Success

Linda Morgan

The Trust Factor: Do Your Employees Trust You?

Cecile Alper-Leroux

Super Session – Influencing and Negotiating – Getting


Results Without Authority

Valerie M. Grubb

Super Session – Motivating, Managing & Mentoring


Multi-Generations and Cultures

Scott Lesnick

Networking Lunch at Tradeshow

12:15 – 1:45

Sit down with fellow delegates for lunch in Ballroom B




then visit the tradeshow.

Breakout Sessions

1:45 – 3:00

From Hiring to Probation: How to Get the Honeymoon


Period Right

Catalina Rodriguez, Cameron Wardell, Jennifer Wiegele, Fred Wynne

Managing Performance of Employees with Mental Health


and Addiction Disabilities

Michael Hancock, Kathy Pereira, Andrea Ringrose, Stephanie Vellins

HR Strategy: Helping HR Leaders Approach Their Roles


from a Strategic Mindset

Debra Jacobs Hamby

Leading Change in the Gig Economy

Bree Groff

Driving Employee Engagement – A Proactive and


Strategic Guide for 2018

Kelly Allder

Keynote Session

3:30 – 5:00

Ordinary Canadians. Extraordinary Leadership.

Peter Mansbridge

HR Happy Hour

5:00 – 6:00

Come mingle with fellow attendees, award winners,


finalists and exhibitors in the tradeshow area.
Conference schedule and sessions subject to change.
For CPHR holders: Your attendance will be tracked by scanners at the door to each breakout. To claim your CPD Hours, you must be scanned into each session you attend.
---
Tuesday Session Details
Opening Keynote


Boost Your Brain: The Brain Science Secrets of Motivation, Productivity, and Peak Performance
DATE: Tuesday, May 1, 2018
TIME: 8:30am – 10:00am
TRACK: KEYNOTE
AUDIENCE LEVEL: All
Sponsored by:

DESCRIPTION: Everyone knows the feeling of having more items on our 'to-do' lists than time in our day, or knowing something needs to get done you just can't find the energy to do. Some will assure you that better 'time management', 'self-management' or 'managing through others' is the key to higher productivity – though brain-sciences inform that none of this is true. Better motivation and higher productivity are within reach: they require better energy management and insight into how to truly manage your own brain – the way it wants to work!

This keynote will highlight the importance for HR leaders to better understand their own brain and the possibilities it presents: better understanding of our own brain helps us work smarter, better, more productively, as well as manage the productivity and performance of other people much more effectively. Discover how you can feel more motivated, be more productive, have higher functionality and deliver peak performance more consistently.

Set your brain, self, and day up for success!

PRESENTER(S):

Dr. Brynn Winegard

is not your conventional neuroscience speaker. Whether keynoting or delivering a workshop, she engages her audiences on why we do what we do and the important role our brain plays in literally every aspect of our day. On stage, Dr. Winegard is an energetic, professional and enthusiastic speaker who simultaneously informs, and inspires. Whether she's sharing why women multi-task or she's talking about just how fast our brains process information, she has the unique ability to make brain science accessible to every level of science knowledge.
---
Employer Strategies for Responding to an Aging Workplace
DATE: Tuesday, May 1, 2018
TIME: 10:45am – 12:15pm
TRACK: Employment Law & Legislation
AUDIENCE LEVEL: All
DESCRIPTION: As the percentage of older workers remaining in the workforce continues to grow, employers will increasingly be faced with challenges in recruiting, retaining, performance management, and accommodating these older workers. For this session, we have brought together an experienced panel of lawyers who have a range of perspectives – including an advocate on the legal and policy issues impacting older adults, a former in-house counsel who participated in the development and implementation of HR strategies, and counsel whose focus is on representing employers in human rights and wrongful dismissal matters. You will come away from this session with a good understanding of these issues, as well as practical strategies that employers can implement to ensure that their HR practices comply with human rights laws, minimize risk, and ensure a productive and healthy workforce.
PRESENTER(S):

Nicole Byres

, is a partner and head of the Labour and Employment Group in Miller Thomson's Vancouver office, and has years of experience as a labour and employment lawyer, advising employers both as external and in-house counsel. Nicole's in-house experience provided her with an understanding of industrial relations and organizational behaviour which help her provide practical and strategic advice to unionized and non-union employers in a broad range of sectors. Nicole regularly represents employers in labour arbitrations and other administrative tribunals. Nicole also provides advice on employment contracts & policies, employee requests for accommodation, occupational health & safety, collective bargaining, discipline, workplace investigations, and labour and employment issues arising in workplace restructuring/sale of business.

Valerie Dixon

is a partner with Miller Thomson's Labour & Employment group. Valerie acts for a variety of employers, both large and small, federally and provincially regulated, including financial institutions, retailers, insurers and insurance brokers, health care providers and First Nations. Valerie has appeared as counsel in all levels of court, including the Supreme Court of Canada, and regularly acts as counsel in matters before the Human Rights Tribunal and Employment Standards Tribunal. Valerie was recently included on the 2018 Best Lawyers in Canada list for Labour & Employment Law.

Krista James

is the National Director of the Canadian Centre for Elder Law, and a staff lawyer with the British Columbia Law Institute. Krista's work is focused on the legal and policy issues that impact us as we age. Her practice includes legal research, policy analysis, and public legal education, involving stakeholders from healthcare, labour, finance, justice and other sectors. She has written on topics such as abuse and neglect of older adults, mental capacity, discrimination, and caregiving policy. Increasingly her work centres on intersections between aging, gender and the law, and strives to shift narratives on aging from characterizing older people primarily as recipients of care to recognizing older adults in our communities as caregivers and rights-bearing subjects.
---
Legalization of Marijuana: What You Need to Know Before BC Goes Up in Smoke
DATE: Tuesday, May 1, 2018
TIME: 10:45am – 12:15pm
TRACK: Employment Law & Legislation
AUDIENCE LEVEL: All
Sponsored by:

DESCRIPTION: The law is evolving. Marijuana is on its way to legalization. The Supreme Court of Canada has issued a new decision that sets out employee obligations and employer rights relating to drug policies, testing, addiction and discipline. While the incompatibility of marijuana in the workplace is relatively obvious, there are several tricky issues that require a deeper understanding and analysis. This session will prepare workplaces of all sizes on the proactive steps that can be taken generally and what reactive options can be applied individually, when marijuana creeps into the workplace.
PRESENTER(S):

Michael Kilgallin is a partner at Roper Greyell where he provides calculated advice to employers on employment, labour relations and human rights issues. Michael is an advocate for his clients with experience in just about every BC court and administrative tribunal dealing with workplace law. However, Michael is known for providing his clients with practical and efficient advice to navigate potential disputes away from courts and tribunals. In particular, Michael assists employers with drafting, maintaining, and enforcing employment contracts and policies, as well as evaluating the risks and options associated with hard decisions employers have to make that affect employees. By working closely with employers proactively, Michael ensures they have the best facts possible to minimize employee disputes. Michael speaks and writes on a wide range of employment and labour law topics, including delivering seminars and training to clients on all workplace issues.

Drew Demerse is a partner at Roper Greyell where he provides strategic and practical advice to employers on labour, employment, and human rights issues in the workplace. Drew's advice is rooted in his thorough understanding of his clients' business objectives. Drew has a passion for learning about his clients' businesses and uses this knowledge and his solutions-oriented style to help clients navigate complex workplace legal issues. His proactive approach has made him a trusted partner and advisor to the management teams of a broad spectrum of businesses in Canada. Drew works collaboratively with his clients to resolve performance management issues and workplace conflict. He is also frequently engaged for workplace policy development, and has particular expertise drafting and implementing drug and alcohol policies.

Dr. Paul A. Farnan has worked in the field of occupational medicine and addiction medicine for more than twenty-five years. As well as being a member of the Occupational and Environmental Medical Association of Canada, he is Board certified in Addiction Medicine and Family Practice. He is a Clinical Associate Professor, Department of Family Practice at the University of British Columbia. Dr. Farnan's consulting with employers and unions has involved developing and delivering programs to assist employees whose work is impacted by addiction and other substance use diagnoses. He has provided independent assessment and treatment recommendations for thousands of individuals with addictive disorders, especially those involved in safety sensitive work. He has a particular interest in the interface between workplace safety and impairment at work as a result of prescribed medications and other drugs such as cannabis.

Steven Rogers is a partner at Victory Square Law Office LLP, where he represents clients primarily in the areas of labour law, pension/benefits law, and constitutional law. Steve has appeared in all levels of court in BC and has had success appearing at the Supreme Court of Canada. Steve has experience representing unions, benefit trustees and employees in collective agreement arbitration, Labour Relations Board proceedings and matters before various other administrative tribunals. Steve has been actively involved in Charter litigation since 2007 and continues to strive to protect the rights of employees to free collective bargaining. Steve earned his Bachelor of Laws and Bachelor of Arts (English Literature) from UBC, where he received the "Edward Peck Industrial Relations Prize" in Law and the "Panvini Scholarship" in Law. He is a member of the Canadian Association of Labour Lawyers, the International Foundation of Employee Benefit Plans and the Canadian Bar Association.
---
Agile or Adjunct? How to Structure Around Your Agile Teams for Success
DATE: Tuesday, May 1, 2018
TIME: 10:45am – 12:15pm
TRACK: Organizational Effectiveness
AUDIENCE LEVEL: All
DESCRIPTION: Our experience tells us that Agile does not necessarily mean success! In fact, the rush to Agilize organizations has generated retention issues, poor morale and unexpectedly low results. Why? Join us to decipher the ways to make Agile Teams a truly transformative addition to your traditional organization.

You will learn to set up Agile Teams for success by:

Identifying tension points between Agile Teams and the traditional organizations that house them
Considering options for strengthening the "connective tissue" between traditional and Agile teams
Creating cultural conditions to ensure the two can coexist successfully

PRESENTER(S):

Linda Morgan

has been working in the field of organization development for twenty years. Her diverse career has led her to work with global and local organizations, unionized and non, and executive and front line staff. In her current position as Director of Change Management and Organization Design for North America at Manulife Financial, Linda has seen first-hand the benefits and pitfalls of agile implementation. Linda also enjoys sharing her experience and passing on her learning by teaching at the McMaster University DeGroote School of Business. In addition, she has been a guest speaker with the Your Workplace, HRPA National and IPL conferences on the topics of culture development and change management. Linda's foundational philosophy and approach is through the lens of complexity science, helping to translate complex intractable problems into simple actionable steps and her passion is to learn with curiosity and to inspire with compassion.
---
The Trust Factor: Do Your Employees Trust You?
DATE: Tuesday, May 1, 2018
TIME: 10:45am – 12:15pm
TRACK: Organizational Effectiveness
AUDIENCE LEVEL: All
Sponsored by:

DESCRIPTION:Why do so many employees feel like they can't trust their leadership or employer? Today, more employees than ever are reporting that their organization simply doesn't understand them. Many employees also cite a lack of transparency or open dialogue with their leadership.

Trust is vital to your organization's success. When your people trust you, they'll be more productive, motivated, and loyal. Many employees even connect trust in their supervisors to their overall job performance and satisfaction. Learn how you can build a culture of trust in your workplace and tools that can help you better understand and measure your employees' needs and feelings.

PRESENTER(S):

Cecile Alper-Leroux

is Ultimate Software's vice president of human capital management innovation. She has dedicated her life's work to helping companies design the best possible experiences for all people to achieve highly purposeful and productive jobs. Cecile has over 20 years of experience in HR, as a practitioner and leader in technology, strategy and products in the United States, Canada, Latin America, and Europe. An economic anthropologist, she frequently speaks and writes about people and technology in a work context, always passionate about the extraordinary transformation of the work environment and the vastly more human-centered ways of building meaningful careers. Cecile has been featured in

Forbes

,

HuffPost

,

HR Magazine

,

HRD Canada TV

, and

The Wall Street Journal

.
---
Super Session


Influencing and Negotiating – Getting Results Without Authority
DATE: Tuesday, May 1, 2018
TIME: 10:45am – 12:15pm
TRACK: Personal & Professional Enrichment
AUDIENCE LEVEL: All
Sponsored by:

DESCRIPTION: Getting stuff done in the office can be challenging even under the best of circumstances. Everyone has their own priorities and deadlines, however, you've also got your own projects and getting them successfully implemented typically requires assistance from employees who don't work for you. This is where your powers of influence and persuasion can help!

Being able to influence people through communication, engagement persuasion and relationship-building is essential for the rising leader, particularly when leading organization-wide initiatives. We'll review a tried-and-true blueprint for mobilizing your co-workers and engaging them to rally around your priorities! In this highly interactive workshop, we'll review strategies to help you influence without authority for your project and your career.

PRESENTER(S):

Valerie M. Grubb

is the Principal of Val Grubb & Associates Ltd. which she founded after holding a succession of senior leadership roles within major corporations including NBC Universal, Oxygen Media, IAC and Rolls-Royce. She is an innovative and visionary operations leader with an exceptional ability to zero in on the systems, processes, and human capital issues that can hamper a company's growth. Valerie regularly consults for mid-range companies wishing to expand and larger companies seeking efficiencies in back-office operations. Her expertise and vibrant style are also in constant demand for coaching and training for senior leaders. Valerie Grubb's first book,

Planes, Canes, and Automobiles: Connecting with Your Aging Parents through Travel

(Greenleaf Book Group), chronicles her experiences traveling with her octogenarian Mom and her second book entitled

Clash of the Generations: Managing in the New Workplace Reality

(Wiley) offers direction to new and seasoned managers on how to motivate and engage four generations in the office.
---
Super Session


Motivating, Managing & Mentoring Multi-Generations and Cultures
DATE: Tuesday, May 1, 2018
TIME: 10:45am – 12:15pm
TRACK: Talent Management
AUDIENCE LEVEL: Mid-Level
Sponsored by:

DESCRIPTION: Successfully Blending the Five Generations currently in the workplace can be a tall order. Your HR leadership is essential in assisting all employees including management to better understand one another!

Our goal is to help support happier, more productive employees while also maintaining a company- wide focus. Around the globe and in Canada, today's business can have up to 5 different generations working side by side. And, productivity can decrease if your staff doesn't understand the unique characteristics and talents each person/generation brings. This highly requested interactive presentation covers strategic methods of improving employee communications, improving operational efficiency, increasing employee retention and growing employee productivity; how to find it, how to harness it and how to keep it. Important in all lines of work! Millennials and Gen. Z get a special nod in this presentation- you'll see why they deserve it in this fun, informative and fast paced session!

PRESENTER(S):

Scott Lesnick is a high content international speaker who is motivational, instructional and educational in style and tone. He presents powerful keynotes and interactive breakout sessions and is a consultant and author. Also, Scott is a professional member of the National Speakers Association (NSA) as well as the Dean of the Academy for Professional Speakers. He is the recipient of the NSA Rising Star award for 2016-2017. His memoir, Kidjacked – A Father's Story was recently published to critical acclaim. In addition, Scott has 28 award-winning sales and management years at Shaw Industries, a Berkshire Hathaway Fortune 500 company. Scott's motivational, educational and inspirational messages center around topics including: increasing productivity, HR, generational and cultural inclusion excellence in leadership, administrative excellence, healthcare professional development; plus, maximizing performance, maximizing operational performance and excellence and managing change through great leadership.
---
From Hiring to Probation: How to Get the Honeymoon Period Right
DATE: Tuesday, May 1, 2018
TIME: 1:45pm – 3:00pm
TRACK: Employment Law & Legislation
AUDIENCE LEVEL: Mid-Level
Sponsored by:

DESCRIPTION: Luring a candidate into a job and ending the employment relationship under probation are becoming mine fields for employers in recent years. This session will cover what you need to know about recruiters' promises that do not come to fruition; your exposure as a head hunter or recruiter, and the organization's liability for prior service at another organization should you end the employment relationship; what may happen if you made statements, during the interview, about benefits or perks that end up not being accurate, and what could happen if you lose your leader's support for a position and you have just hired a new employee. We will cover what does a "good faith chance" during probation means and why it matters, and why terminating during probation without doing it right, may cause your organization money, and place your reputation at risk, in spite of the former employee's short service. You will leave the session with practical tips to avoid messing up what should otherwise be the honeymoon period of the employment relationship, and you will be up to date on recent legal developments.
PRESENTER(S):

Catalina Rodriguez

, CPHR is currently Head of Employee Relations for HSBC Bank Canada. She is an employment lawyer with experience in private practice, having worked for a major management side law firm, as well as a leading employee side firm in Vancouver. She was also in the Retail sector as in-house counsel and Employee Relations leader for the Canadian operations of a U.S. based major retailer. Catalina has dealt, from both a legal and an HR perspective, with wrongful dismissal and unjust dismissal litigation, workplace investigations, executive compensation issues, accommodation challenges, benefits design, termination agreements, certification issues and unfair labour practices. Catalina facilitates leadership sessions and speaks on employment law issues.

Working out of the Vancouver office of Mathews, Dinsdale & Clark LLP, Cameron Wardell provides representation in a wide range of employment-related disputes and litigation. Cam has appeared before all levels of court in British Columbia, as well as various administrative tribunals and the Federal Court. Cam crafts effective strategies to resolve disputes efficiently, while always remaining prepared to adeptly present his client's case when matters require adjudication. While focusing on litigation, Cam has assisted employers with a wide range of other matters, including the preparation of employment contracts and employment policies, collective bargaining and dispute resolution before labour, employment, human rights and other administrative tribunals. Cam is the current Co-Chair of both the Canadian Bar Association BC Branch Employment Law Section and Civil Litigation Section.

An experienced labour and employment lawyer practicing in all areas of workplace law,

Jennifer Wiegele

offers strategic advice to prevent and resolve workplace conflicts. When legal disputes arise, Jennifer provides effective advocacy and representation for clients. Jennifer regularly advises and represents employers on wrongful and constructive dismissals; post-employment issues and restrictive covenant litigation; employment contract drafting and interpretation; executive employment and severance agreements; human rights matters; workplace policies and employment standards; disciplinary matters; privacy and access law; drug and alcohol testing; and occupational health and safety. Jennifer also represents unionized employers in labour relations matters, including collective agreement interpretation and arbitrations. She provides strategic advice relating to business planning and organization, including mergers and acquisitions, and sales of businesses.

Fred Wynne

is an advocate and a tenacious problem solver who uses legal tools including mediation, litigation, and negotiation to obtain his clients' goals. He practices in all areas of employment law and has particular experience with disability accommodation, human rights discrimination, wrongful termination, privacy invasion, non-competition and non-solicitation contract issues, and WorkSafeBC compensation and occupational health and safety. Fred litigates cases before all levels of court in BC as well as before administrative tribunals; however, he's also committed to resolving lawsuits without going to court whenever possible, and extensively practices mediation.
---
Managing Performance of Employees with Mental Health and Addiction Disabilities
DATE: Tuesday, May 1, 2018
TIME: 1:45pm – 3:00pm
TRACK: Employment Law & Legislation
AUDIENCE LEVEL: Mid to Senior
Sponsored by:

DESCRIPTION: It is increasingly challenging to identify the legal rights of management when managing the performance of an employee with a disability in light of obligations under the Human Rights Code. These challenges are often amplified when concerning mental health issues or addiction. In this session we will discuss strategies, tools, and best practices that will build the confidence of HR Managers as they seek to find a balance between operational targets, legal obligations, and employee needs.
PRESENTER(S):

Michael Hancock

is a partner with Harris & Company LLP, Western Canada's leading workplace law firm. Michael acts for clients in both the public and private sectors, with expertise in the area of education law. In addition to 11 years as a member of Harris' Education Group, Michael was General Counsel for the BC Public School Employers Association (BCPSEA) and the Vancouver School Board (VSB). He acted as lead negotiator and spokesperson for BCPSEA in bargaining, including during the illegal withdrawal of services in 2005. Michael also held the positions of General Counsel and Director of Employee Relations for the Insurance Corporation of British Columbia (ICBC). Michael's past experience affords him unique insights into the education sector and the rare perspective of having been counsel, client, and negotiator.

Kathy Pereira

is the Director of Training, Health and Workplace Management Services for Coast Mountain Bus Company. She oversees all health programs, human rights claims management, and the attendance program. Prior to working for Coast Mountain Bus, she was the VP of Client Services for Interlock PPC Canada, a Global Employee and Family Assistance provider, and worked at ICBC for 26 years. Kathy has been working in Disability Management for over 15 years and has learned first-hand how mental health issues impact individuals and the organizations they work for.

Andrea Ringrose

is Director of Security Intelligence and oversees psychological health and safety programmes for Vancouver corporate risk management firm, Lions Gate Risk Management Group. As a human security professional, she uniquely works in interdisciplinary roles across academic, corporate, law enforcement, and government settings. Andrea is a Canadian Mental Health Association Certified Psychological Health & Safety Advisor, and Certified Mental Health First Aid (Canada) Instructor for the Mental Health Commission of Canada. In addition, Andrea is a clinical research member of the UBC Department of Psychiatry's Translational Psychiatric Genetics Group. Andrea has specialized training and experience in human intelligence analysis, criminal investigative analysis, research diagnostics (psychometrics), and behavioural threat/risk assessment. She is co-author of publications in the

Journal of Clinical Psychiatry

,

Bipolar Disorders

, and the

Journal of Genetic Counseling

.

Stephanie Vellins

acts for a broad range of clients, both provincial and federal, in the public and private sectors, advocating on behalf of clients and providing strategic advice on all aspects of workplace law, including human rights. Stephanie started her labour and employment law career at Taylor Jordan Chafetz (TJC) in 2001, becoming a partner in January 2008. Together with her colleagues from TJC, Stephanie joined Harris & Company LLP in December 2014. Stephanie regularly represents clients at arbitration, before the BC Labour Relations Board and the BC Human Rights Tribunal. Her advocacy also brings her before the British Columbia Courts and various federal tribunals. She is frequently asked to conduct bullying/harassment and discrimination investigations. Stephanie is a skillful negotiator and creative problem solver. A categorical people person, Stephanie's clients know her to be collaborative, attentive, and emotionally intelligent.
---
HR Strategy: Helping HR Leaders Approach Their Roles from a Strategic Mindset
DATE: Tuesday, May 1, 2018
TIME: 1:45pm – 3:00pm
TRACK: Organizational Effectiveness
AUDIENCE LEVEL: Senior
Sponsored by:

DESCRIPTION: Inspiring HR/OD leaders to expand their strategic mindset within their current roles, Debra Jacobs Hamby designed this session to be a true interactive dialogue that can help even the most transactional HR professional take steps to offer their business partners fresh ways of thinking, leading and being to further inspire and engage talent. Throughout the program, you will have the opportunity to participate in unique activities to help elevate your awareness of key skills including active listening. This session will open up a lively, new discussion to expand your already valuable contributions to your team. Deb lends her expertise in helping HR leaders distinguish between being strategic about business and strategy about HR/OD. The primary goal is to remind HR leaders of their unique role in the organization and focusing on the fact that they are the experts when it comes to Talent and all things related to work force effectiveness. Business savvy is an asset, but how you can bring your strong HR/OD consciousness to the table is a shift in mindset that will be discussed further in this session.
PRESENTER(S):

Debra Jacobs Hamby is passionate about partnering with senior leaders and top teams to strategize how they can best create value. With 30 years of Fortune 500 P&L as well as consulting firm management, Deb believes that businesses sustain greatness over time when their leaders develop the ability to focus on the balance of operating mechanics and leader dynamics. She has spent her career building the case for top team development as the key to consistent high performing organizations. Deb's clients have engaged her for strategy work including how to derive value from an authentic corporate social responsibility stance, crafting plans to effectively communicate and cascade strategy, coaching key leaders from all sectors and functions, identifying successors and developing plans to prepare leaders for C-Suite roles, developing/implementing comprehensive organization effectiveness/leader development initiatives, building teams up and down and across the business and advising leadership teams and Boards that seek a higher quality relationship and improved governance. Deb co-authored Shockproof: How to Hardwire Your Business for Lasting Success.
---
Leading Change in the Gig Economy
DATE: Tuesday, May 1, 2018
TIME: 1:45pm – 3:00pm
TRACK: Organizational Effectiveness
AUDIENCE LEVEL: Mid-Level
DESCRIPTION: In a gig economy you need to be able to scale up and down teams quickly and efficiently. While many talk about transformation and innovation, how you get the people of an organization to actually change their ways of working and embrace new ideas can be a major challenge to high-performing teams. Bree Groff, CEO of NOBL, will share how to identify resistance to change, six underlying causes of resistance, and then a framework and best practices for how to effectively lead change (relevant at the team level or organizational level). The NOBL team will share case studies on leading organizations as well as experience with their clients, tools to identify resistance when it pops up and the many different ways it can manifest organizationally and individually. The framework will provide a process for leaders to work through the human responses to change and bring their teams along for the journey.
PRESENTER(S):

Bree Groff is a speaker, consultant, and serves as CEO of NOBL Collective. For more than a decade, Bree has been focused on innovation, transformation, and organizational design, advising leaders at companies including Calvin Klein, Intel, AARP, Capital One, and Memorial Sloan Kettering Cancer Center. She is internationally recognized for her thought leadership on designing organizations that thrive amidst change. Previously, Bree founded and led an Innovation Department, advised leaders as a Service Design Consultant, and explored communication, decision-making, and interpersonal chemistry as a Psychology Researcher. She did her graduate work in Organizational Learning and Change at Northwestern University where she continues to teach Cognitive Design and Decision-Making.
---
Driving Employee Engagement – A Proactive and Strategic Guide for 2018
DATE: Tuesday, May 1, 2018
TIME: 1:45pm – 3:00pm
TRACK: Organizational Effectiveness
AUDIENCE LEVEL: Mid-Level
DESCRIPTION: Employee engagement has become a top priority for organizations today. As more organizations are starting to connect employee engagement back to the overall profitability, customer experience and success of the business, there is a misperception that employee engagement can easily be created by simply offering a fun work environment, good pay and unexpected perks. However, in driving employee engagement, businesses need to build a dynamic strategy goes beyond these basic elements. In our presentation, we'll provide pertinent insight to the pillars of driving employee engagement, which include addressing triggers of disengagement and the importance of building a strong corporate culture. We'll offer ideas that your organization can follow and can incorporate into your strategy to help retain employees and increase overall productivity.

In this session, you will learn to:

identify the ideas that are fundamental in driving employee engagement
discuss popular employee engagement misconceptions that are commonly found across organizations regardless of size, industry or location
properly evaluate and assess employee engagement levels
create a culture of engagement that can be instilled in your workplace

PRESENTER(S):

Kelly Allder

is an experienced human resources consultant and dynamic facilitator. As Vice President of People Programs, Kelly is responsible for HR technology and HR programs that enhance the effectiveness of employees and managers, and increase engagement. Kelly recently completed the global implementation of Dayforce HCM for Ceridian – all modules (HR, payroll, workforce management, benefits, recruiting, and performance) for 5,000 employees in 4 countries, in 2 languages, with 46 interfaces. She is now working on a global succession management and talent development program. Kelly is also Executive Director of Ceridian Cares, Ceridian's very own charity, where she oversees the daily operations and national committees that give grants to people in need.
---
Keynote


Ordinary Canadians. Extraordinary Leadership.
DATE: Tuesday, May 1, 2018
TIME: 3:30pm – 5:00pm
TRACK: KEYNOTE
AUDIENCE LEVEL: All
Sponsored by

DESCRIPTION: What does Canadian leadership look like? Is there something special, and vital, about leadership in this country? In this engrossing talk, based on his reporting from around the world, Peter Mansbridge offers accounts of extraordinary acts of leadership by ordinary Canadians, at home and abroad. He speaks of stories of courage and selflessness, from Sri Lanka to the Netherlands, Afghanistan to our own Indigenous communities, to show us that Canadian leadership is, at core, about caring. It's about being there for our neighbours-down the street, across the country, or even around the world-when and where they need us the most.
PRESENTER(S):

Peter Mansbridge's sterling career at the CBC is without precedent. He served as the chief correspondent of CBC News, helmed its flagship show The National, anchored all CBC News specials, and hosted the intelligent interview show Mansbridge: One on One. For his work, Mansbridge has received over a dozen national awards for broadcast excellence—yet for all the accolades, he remains an astoundingly grounded individual, with a gentle humour and trademark integrity. Reflecting back on his journalism career, which has taken him across the country and the planet, he told CBC's The Current, "When you hear from others about their perceptions of Canada, it opens your eyes about the country you live in. You learn things about yourself you didn't know."

Away from the news desk, Mansbridge has been recognized by a host of leading universities. He's been a Fellow at Yale, has lectured at Oxford, was named Chancellor of Mount Allison University, and is a recipient of the Queen Elizabeth II Diamond Jubilee Medal. Mansbridge was also named an Officer of the Order of Canada—one of the country's highest civilian honours—for his "contributions to broadcasting, for his commitment to helping Canadians better understand their country and the world, and for his dedication to literacy and Canada's youth." Known for his trademark voice and unflappable onscreen presence, Mansbridge has also found success as an author. His book Mansbridge: One on One was a national bestseller.
---