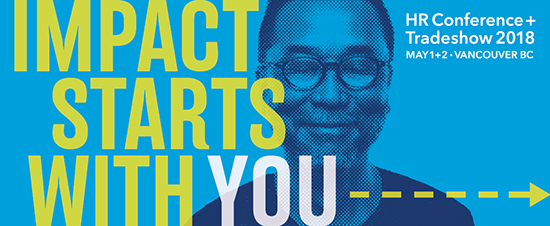 Conference Volunteers
The annual CPHR BC & Yukon HR Conference + Tradeshow at the Vancouver Convention Centre is a popular volunteering opportunity for CPHR BC & Yukon members; however, there are limited available spaces. If selected you will have a great experience working with CPHR BC & Yukon staff 'behind the scenes' on the largest HR event in Western Canada, interact with conference participants, attend breakout sessions when appropriate, and watch most keynote speakers.
CPHR BC & Yukon looks for volunteers that have some experience volunteering with the association already, or leadership experience at another large conference. Transportation and accommodation are not included for volunteers. However, volunteers will be reimbursed for parking, and meals will be provided on Tuesday, May 1st and Wednesday, May 2nd, 2018. Regrettably, staff and volunteers are not eligible for the grand prize in the tradeshow.
CPHR BC & Yukon Conference Volunteer Requirements:
CPHR BC & Yukon conference volunteers must be flexible and willing to work in a wide capacities of roles based on demand. Areas include room monitors, badge scanning, crowd control, ushers in the main ballroom, tradeshow support, registration desk support, room access monitors, back up for session introductions, delegate bag stuffing, and other duties as required. Although no heavy lifting is required, volunteers should be prepared to do a lot of standing and walking over the three days which can be physically demanding. You must be a member in good standing of CPHR BC & Yukon.
Online applications will be accepted until January 31, 2018.